Welcome
If you have naked windows, or just want to update your designs, Express Blinds, Draperies & Shutters is the company to contact. Express Blinds, Draperies & Shutters offers the best value and quality craftsmanship in the San Diego and surrounding areas.
Do you need more privacy or additional light control?
Do you want to save money on your heating and cooling bills?
Do you need to enhance the design in your home?
Our window coverings can help bring comfort, style, and value.
More than just a window covering company, Express Blinds, Draperies & Shutters also handles interior designs such as room coverings and bedroom décor, and even exterior spaces.
Featured Product
CeAnna Vertical Cellular Shades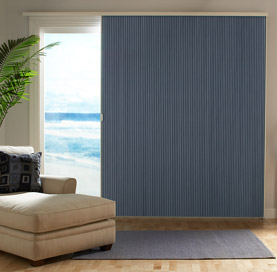 CeAnna Vertical Cellular is available in light-filtering and room-darkening fabrics. With multiple stack options, CeAnna is the best choice for your decor. The smooth gliding headrail operates with no cords or chains making it a safe product, especially with children and pets.