Welcome
If you have naked windows, or just want to update your designs, Express Blinds, Draperies & Shutters is the company to contact. Express Blinds, Draperies & Shutters offers the best value and quality craftsmanship in the San Diego and surrounding areas.
Do you need more privacy or additional light control?
Do you want to save money on your heating and cooling bills?
Do you need to enhance the design in your home?
Our window coverings can help bring comfort, style, and value.
More than just a window covering company, Express Blinds, Draperies & Shutters also handles interior designs such as room coverings and bedroom décor, and even exterior spaces.
Featured Product
SaVanna S-95 Headrail Vertical Blinds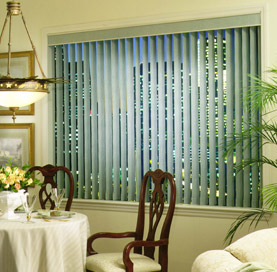 Practical and fashionable, our collection of SaVanna custom vertical blinds are the most versatile of all window treatments. Paired with one of three valance options you have an ideal window covering for any room in your home. Vertical Blinds are perfect for large or small windows, French doors and patio doors. SaVanna verticals are available on our S-95 headrail in your choice of fabric or vinyl PVC.
Verticals combine beauty, easy maintenance, excellent light control and privacy with a rich variety of fashion forward textures, colors and patterns. SaVanna Verticals utilizing the superior S-95 track sets the standard for excellence. This system is the most versatile system that you will find anywhere! The S-95 features self-lubricating wheeled carriers and stacks open in a third less space than any other headrail system. Rotate and traverse motorization is available.