Welcome
If you have naked windows, or just want to update your designs, Express Blinds, Draperies & Shutters is the company to contact. Express Blinds, Draperies & Shutters offers the best value and quality craftsmanship in the San Diego and surrounding areas.
Do you need more privacy or additional light control?
Do you want to save money on your heating and cooling bills?
Do you need to enhance the design in your home?
Our window coverings can help bring comfort, style, and value.
More than just a window covering company, Express Blinds, Draperies & Shutters also handles interior designs such as room coverings and bedroom décor, and even exterior spaces.
Featured Product
Motorized Lift & Tilt System for Treanna Shades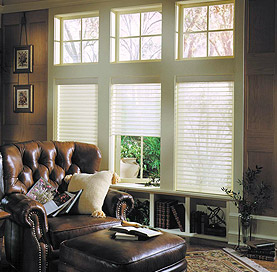 Treanna blind products use the LT30 motorized lift and tilt system. These products can be operated with either the battery power, DC 12V transformer, or solar power and all on radio frequency. Motorization is available for use with all Treanna sheer shades. Existing shades can also be retro-fitted.